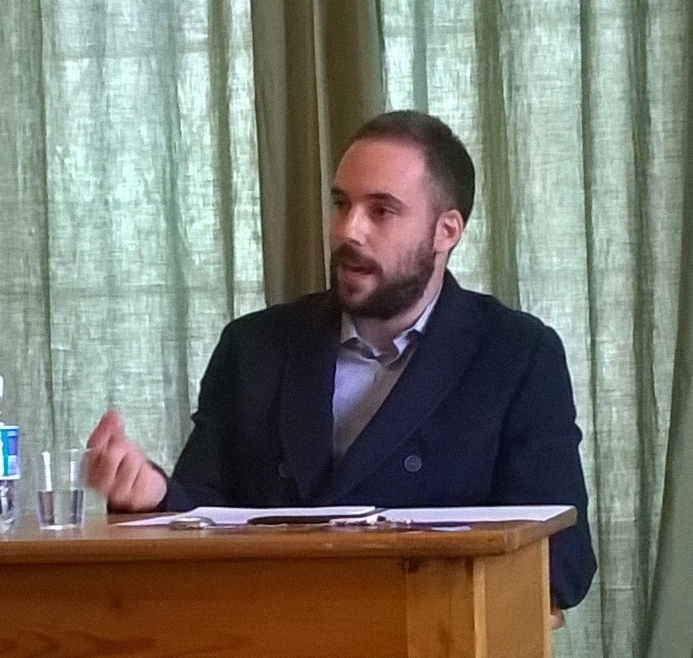 Gian Pietro Soliani
Curriculum accademico
2008: Laurea triennale all'Università di Parma. Tesi: La dottrina della partecipazione nel Commento al De hebdomadibus di Tommaso d'Aquino (relatore: prof. Fabrizio Amerini).
2011: Laurea magistrale all'Università Ca' Foscari di Venezia. Tesi: Le fonti scotiane dell'ontologia rosminiana (relatore: prof. Paolo Pagani).
Dal 2013 iscritto al dottorato in filosofia all'Università Ca' Foscari di Venezia con un progetto di ricerca dedicato al pensiero metafisico di Antonio Pérez S.J. (1599-1649).
Dal 2012 docente di Storia della filosofia antica e medievale, Filosofia dell'essere e teologia filosofica, Etica filosofica presso lo Studio teologico interdiocesano di Reggio Emlia.
Nel 2013 abilitazione all'insegnamento nella scuola secondaria superiore per la classe A037. TFA presso l'università degli studi di Parma con votazione 99/100.
Pubblicazioni
Libri
– Rosmini e Duns Scoto. Le fonti scotiste dell'ontologia rosminiana, Il Poligrafo, Padova 2012;
Articoli
– Dell'essere come essenza. Per una rivisitazione del problema a partire da Tommaso d'Aquino, in P. Pagani (a cura di), Debili postille. Lettere a Carmelo Vigna, Orthotes, Napoli 2012;
– L'interpretazione della Teosofia, in P. SUOZZO (a cura di), Necessità e inattualità della filosofia. Atti del IV Convegno nazionale sul pensiero di Maria Adelaide Raschini, Biblioteca di studi su Sciacca, vol IX, Olschki, Firenze 2014, pp. 19-44;
– Duns Scotus on the First Object of the Human Intellect. From ens univocum to ens possibile, in «Documenti e studi sulla tradizione filosofica medievale» (2015), pp. 369-398;
– Rosmini e l'idea dell'essere nel pensiero moderno prekantiano (1674-1781), in F. Bellelli – G. Gabbi, Edizioni Rosminiane Sodalitas, Stresa 2016, pp. 47-122.
– Trascendentalità del principio di non contraddizione. Rosmini tra tradizione e modernità, in F. Bellelli – E. Pili, Ontologia, fenomenologia e nuovo umanesimo. Rosmini ri-generativo, Città Nuova, Roma 2016, pp. 151-168.
– Rosmini, Gentile e noi, in F. Mancini – F. Saccardi – G. P. Soliani, Rosmini e il pensiero italiano del Novecento, Edizioni Rosminiane Sodalitas, Stresa 2016, pp. 25-53.
Sono già disponibili sul canale you tube dell'Associazione Spei lumen i video delle relazioni di Gian Pietro Soliani e Francesco Saccardi sul tema Rosmini e Bontadini, tenute lo scorso 23 novembre a Reggio Emilia. Buona...